MORGANTOWN — The first confirmed case of COVID-19 in West Virginia's federal prison system was announced Saturday as members of the American Federation of Government Employees Local 420 branch representing Hazelton FCC protested the planned transfer of inmates to their prison for quarantine, claiming the Bureau of Prisons is spreading misinformation to justify the move.
On Friday night, it was discovered that one of more than 100 inmates transferred earlier this week to FCI Gilmer in Glenville had tested positive for COVID-19 — the first documented case inside a federal prison in West Virginia. Both Richard Heldreth and Justin Tarovisky, respectively the President and Vice President of AFGE Local 420 at FCC Hazelton, as well as Attorney General of West Virginia Patrick Morrisey and Preston County Commissioner Samantha Stone, confirmed on Saturday the news of the positive inmate.
"They're taking inmates who are in a known hotspot with an outbreak and they're trying to introduce them into facilities where they have no infection right now. Unfortunately, we had the first positive case at Gilmer last night, and it was an inmate they received this week," Heldreth said.
"Even though we have been hammering on this and screaming to high heavens to stop this, they still moved forward with it and now our worst fears have comes to pass."
With plans still in motion to move hundreds of inmates to the prison in Hazelton, anger continues to rise among West Virginian citizens, politicians, and the prison staff who will be directly affected.
"There are no other words other than to say, Lord forgive me, that this is a crock of [expletive], that they are sending people here to our state, and our county, and now we've learned that Gilmer County has a positive case down there," Stone said as she spoke to the crowd gathered at the protest.
"I believe it's very irresponsible of the Bureau of Prisons to not test those people and send us only the negatives. They should keep the issues where the issues started and not send them here to people that have to go home to their families every night...we need to step up, stand up to these people and do what's right. This is not right."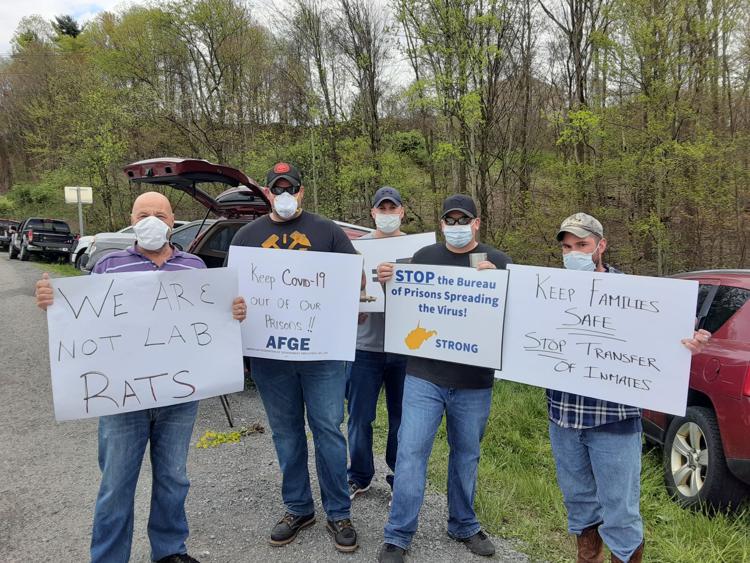 The Solitude of a Mountaintop Interrupted
A move announced last weekend by the BOP designates FCI Gilmer and FCC Hazelton in West Virginia as two of 10 quarantine sites nationwide that will house new federal prison inmates for a 14-day quarantine period before they are moved into the main BOP population.
FCC Hazelton sits in the heart of some of the highest peaks of the Appalachian Mountains, tucked away in solitude off Interstate-68 in a norther corner of Preston County, less than 10 miles from the Pennsylvania and Maryland borders. It has been nicknamed "Misery Mountain" by prisoners.
Now, there are concerns more misery may be afoot, and the move to designate the Hazelton and Gilmer sites has been met with backlash from politicians, prison workers, and citizens alike across the state, but the outcry has made little difference so far. Heldreth said Saturday that transfers to both prisons are currently on hold — but more prisoners could still be sent to West Virginia in the coming weeks.
Morrisey stood alongside Stone and the protestors on the side of Cheat Road in Morgantown — a 2 ½ hour drive from his Charleston office — on Saturday, addressing those gathered to assure them the state government is on their side. "I wanted to come for you guys because you're the ones on the front lines," he told the gathered protestors. Most importantly, he said, he doesn't want the federal government putting those in his backyard at risk for potential harm.
"West Virginia's done this about as well as anyone in the country...when West Virginia does something really well, you don't want the federal government to screw it all up," Morrisey said.
"We're working hard talking with the Bureau of Prisons and we know that it's important to make sure they are not transferring these COVID-19 patients. And here's why: West Virginia has one of the lowest incident rates in the nation."
A Disregard for Safety
While BOP spokesperson Sue Allison announced in a statement that all newly admitted inmates coming into the BOP are screened and temperature checked by employees wearing Personal Protective Equipment (PPE) in accordance with CDC guidance, the prisoners being transferred are not being tested for the virus before they are shipped out.
The Hazelton facility employs workers from three states — Maryland, Pennsylvania, and West Virginia— and West Virginia has maintained a very low percentage of positive test rates for COVID-19 in comparison to the number tested,. As mentioned previously, until Saturday's announcement, the federal prison system in the state was untouched by the pandemic.
Now, with over 800 workers at Hazelton who are in-and-out of their communities each day in a position to potentially be exposed to the virus, there is outrage over the possible effect of the decision on public health.
"It's our number one priority [to protect our communities]. My kids live here, my family lives here, my friends live here and if we can have something to do to stop this, we're going to do it," said Tarovisky.
"I really hope that someone listens, because it's not about who you are or where you live. This virus doesn't care about your status quo, and I don't care about status quo either. They need to do what is right by the citizens," Stone said.
"I live in these communities — the warden at Hazelton lives in our county. We need to step up and do what's right."
And the danger may already be lurking — Tarovisky noted that it was a bus crew from Hazelton that transported the group of prisoners, including the now-positive COVID-19 case, to FCI Gilmer earlier this week. Now, a group of workers at the prison has been exposed to the virus without anybody in their facility testing positive, and they had no knowledge they had been exposed until Friday night.
"Just earlier this week, our bus crew at Hazleton went and took that bus to Gilmer, and our staff took them out, our officers. Now, we find out yesterday that one of those inmate has COVID and is being treated for it. Our staff took that bus, and that inmate hadn't been tested. And he was designated for Hazelton [originally]," Tarovisky said
Heldreth and Tarovisky are also concerned with the ability for FCC Hazelton to properly protect inmates — both the transfers and prisoners they already house — from COVID-19 and from each other, as they claim that Hazelton is coming close to its max capacity without the addition of hundreds of new prisoners.
"We're almost full ourselves. Our SHU is completely full — a SHU, or special housing unit, is a prison inside of a prison. In layman's terms, that means if an inmate stabs or fights another inmate, if an inmate assaults a staff member, if they get caught with weapons or drugs, these are all instances they'd be placed in the SHU," Tarovisky said.
"If we're going to take 200-300 inmates on, we can't even hold these guys accountable if they violate our prison rules. If you take COVID-19 out of the equation, I wouldn't want new inmates coming to Hazelton anyway."
"Once they send us the rest of these inmates, the rest of our prison will be full. Once they start getting sick there's nowhere else to put them, nowhere else to move them except the hospital. We don't want this coming out into the community," Heldreth said.
And due to the science behind COVID-19 which causes the virus to incubate for sporadic and in some cases long periods of time, as well as it's ability to spread quite easily, Stone isn't readily convinced that the problem at FCI Gilmer isn't going to continue to spiral out of control.
"There's probably more than one positive — With this virus, they haven't been able to tell us what the incubation period is yet. There are people and prisoners that are healthy and it just haven't surfaced yet. When you're transporting people just because they don't have a temperature, that's ridiculous. We want a negative test result," she said.
What defines "overcrowding"?
Tarovisky also claims that FCC Hazleton and other facilities designated as quarantine sites are being fed false information in regards to the reasoning behind the transfers.
The plan from the BOP cites overcrowding in the detention centers where inmates are held before they are assigned the prison where they will serve their sentence. Independent research by Heldreth — using publicly available information from the BOP online — analyzed 10 of 11 facilities where these inmates are held nationwide. 
The data shows that all but one detention center is under max capacity, and many have room for hundreds of new inmates. In total, he found there were over 2,000 empty beds in centers across the country.
"Our union has been lied to. They've blamed it on overcrowding, but they're not overcrowding. Each detention center with the BOP is under their max capacity except for one, so how can you say they're overcrowded? It's unbelievable," Tarovisky said.
"The information we have is what we got off the public website of the BOP. [What they said] was adamantly false," Heldreth said.
Where are the Tests? — A Lack of Action, and the Public's Response
In Ohio, Judge James S. Gwin recently addressed a lawsuit brought by inmates in FCI Elkton (Ohio) that the BOP has acted with "deliberate indifference" in their approach to testing inmates.
Of the 2,400 inmates in the prison, Elkton has received only 50 COVID-19 swab tests and one Abbott Rapid testing machine with 25 rapids tests, despite being the site of a very widespread COVID-19 outbreak which has caused multiple deaths.
And as further calls to action mount across the state of West Virginia in response to BOP decision, Morrisey has taken notice of the BOP's lack of prison testing.
He questioned in Morgantown on Saturday why it has been announced that politicians in Washington DC will be tested before returning to work, but more widespread testing isn't available for those on the front lines in the nation's prisons, where rampant outbreaks are occurring nationwide.
"Last night they announced that the US Senate, they're going to have tests at the point of care, they're going to get tested before they get back to work. If it's good enough for the US Senate, why can't the first responders, the nurses, the guards, everyone here, have that same opportunity," Morrisey said.
Morrisey and Stone are currently working together to try and develop and bring about the implementation of new policies for the BOP that prevents something like this from continuing to happen in the future — not just for the interest of their own state and community, but of all United States citizens.
"I've been on the phone nonstop since last Friday, when this was brought to my attention, with Patrick Morrisey. We appreciate his time. I've talked to him five times a day during this whole outcry, and he's been non-stop in touch with us trying to help us find an answer, to come up with a policy," Stone said.
"This isn't just to save Preston County and West Virginia, this is to implement something where the BOP is required to test people regardless of what pandemic is going on, and to not transfer people until they are better."
As numerous protestors at the event called for the firing of Bureau of Prisons Director Michael Carvajal, Heldreth fell short of making a similar statement. However, he was blunt about how he feels Carvajal has mishandled this situation.
"I'll just say, he hasn't been there long, and this isn't a good track record so far. I've been working for this agency for 23 years, and I've worked for several different directors — he's not off to a good start," Heldreth said.
Should the Bureau of Prisons halt transfers to West Virginia prisons?