MORGANTOWN — WVU Medicine — the brand under which the largest health care provider in West Virginia operates — has issued debt collection guidelines for its collectors during the ongoing COVID-19 pandemic, but those policies may stop short of providing proper protection for their patients during a public health and economic crisis.
Earlier this week, the Times West Virginian reported on numerous health care companies operating in West Virginia, including the WVU Health System under WVU Medicine, have engaged in activities such as seizing bank accounts and garnishing wages during the COVID-19 pandemic over unpaid medical debts, prompting anger from citizens and an emergency order issued by a judge ruling certain actions by WVU Hospitals unconstitutional.
After the original story was published, the Times West Virginian conducted an interview with WVU Medicine Vice President of Marketing Tony Condia, who laid out a set of guidelines third-party collection vendors acting on behalf of the organization are to abide by during the current pandemic.
But further investigation revealed that many of those debt collectors are engaging in behavior that appears to contradict the official guidelines released by WVU Medicine, and a lawyer who reviewed the guidelines argued that the policies set forth do little to prevent further harassment and even potential seizure of funds and garnishment of wages during the pandemic. And when faced with those reports, Condia declined to outline any additional specific policy to handle the issue.
Missed Calls
Hazleton resident Will Stewart knows not to bother answering the phone when he sees the number from debt collector MediCredit pop up on his phone.
He knows he should and, he did answer them at first. It's not as if he wants to ignore his medical debts to WVU Hospitals.
He's certainly not against the idea of paying them, but he's just not financially stable enough to come up with the payment they want right now. When Stewart battled Lyme Disease for over a decade beginning in 2002, and had three separate heart attacks last summer — the debt piled up quickly. Stewart's been on disability for years and his wife works, but they're not exactly what one would financially stable.
According to Stewart, MediCredit's attitude towards him has been "nasty" with no prompting on his part, and they weren't being cooperative in his attempts to have a civil conversation and re-negotiate payments. So eventually, he decided not to waste his time.

"Those people are really nasty, they're very mean. They've been calling me about these debts, and even though I have Medicare and my wife has insurance, it's still a lot of money. I haven't answered the phone with them in quite a while now because of the attitude, which I know isn't the greatest solution to things. But they're quite aggressive — one of them at the beginning was like, 'I know you're home, you can't be anywhere else'," Stewart said.
During the period from April 10-16, Stewart said he received nine voicemails from MediCredit, actions that contradict the guidelines that WVU Medicine asks their third-part collection vendors to follow. The following are the top three guidelines from WVU Medicine:
1. Collection calls and letters can continue. However, please take a soft approach to calls and express the compassion that WVU Medicine has for our community during this difficult time. We do not want to beat our patients up as they are sequestered in their homes, compounding the stress of the current situation. We want to be a partner in helping them through this.
2. If a patient expresses concerns about the temporary situation that COVID-19 has put their household in, please hold off on contacting those patients again for a reasonable period of time. Most agencies are pausing calls to these patients for 120 days.
3. Please be flexible on terms for established payment arrangements. Some patients may need to skip payments or reduce monthly payments due to disruption of work and income. Please be flexible and resume regular arrangements once the crisis is over.
But in Stewart's opinion, the actions MediCredit has taken towards him are anything but a "soft approach," and despite him voicing concerns to MediCredit in March, when he last spoke with them, there has been no change in their actions.
"It's one or two calls a day on weekdays, and I just don't need that stress of talking with them right now. Basically I said [to MediCredit], I don't think you should be doing this now, because lot of people are tight on money. A lot of businesses are going to be shuttered. I don't know, I just thought it wasn't right, that's all," Stewart said.
A Tale of Two Policies, and Loopholes in the Law
However, for other folks like Masontown couple Sheri and Seth Long — whose debts are handled by an in-house attorney at WVU Hospitals — these guidelines don't apply. The Long family had their Clear Mountain Bank account seized by WVU Hospitals in the middle of the COVID-19 pandemic and filed a lawsuit through Mountain State Justice in Morgantown. The judge who handled the case issued an emergency order for the account to be relinquished, ruling the actions unconstitutional.
And although the initial conversation and email from Condia was prompted by the Long family's situation, no set of COVID-19 guidelines for in-house debt collections was provided to the Times West Virginian.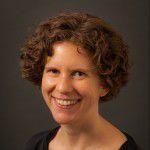 "The Long case is being collected by an in-house attorney directly employed by WVU Hospitals, and he's the individual — his name is Ed Harman — who told me they have no broader policy and refused to talk to me about what they were doing in regard to anyone other than the Long's," said Jennifer Wagner, the attorney at Mountain State Justice handling the Long family's lawsuit.
But even if the Long family had been dealing with a third-party collector such as MediCredit, such actions still could have occurred. While the fourth guideline sent out by WVU Medicine to third-party collectors states not to file any new legal suits, the money judgment order for Long's debt was issued nearly two years ago, on April 30, 2018.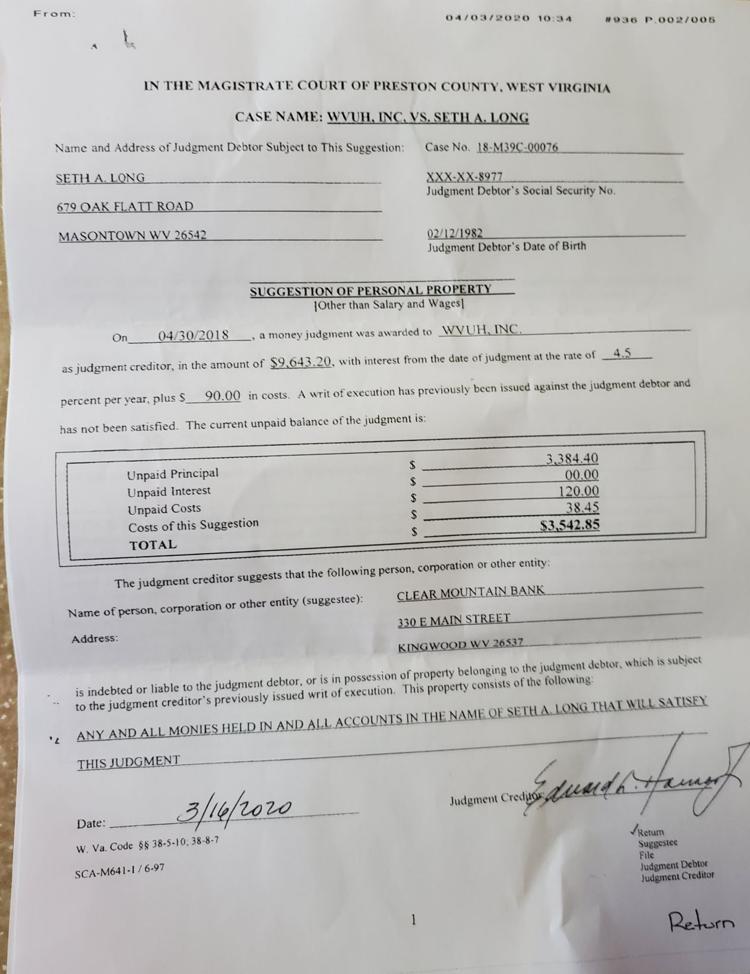 The Long family was unable to pay the debts in the amounts WVU wanted. Cheri Long works in an assisted living facility and her husband is currently an unemployed coal miner.
But WVU Hospitals, who is listed as the judgment creditor on the legal documents, never made an attempt over the previous two years to collect the debt, even though the current bank account with CMB that was seized in March 2020 was listed as suggested personal property on the initial judgement in April 2018. Attempts to seize the account didn't come until after COVID-19 had begun to cause states across the nation to begin closing all non-essential businesses, slow or postpone court proceedings, and shelter at home.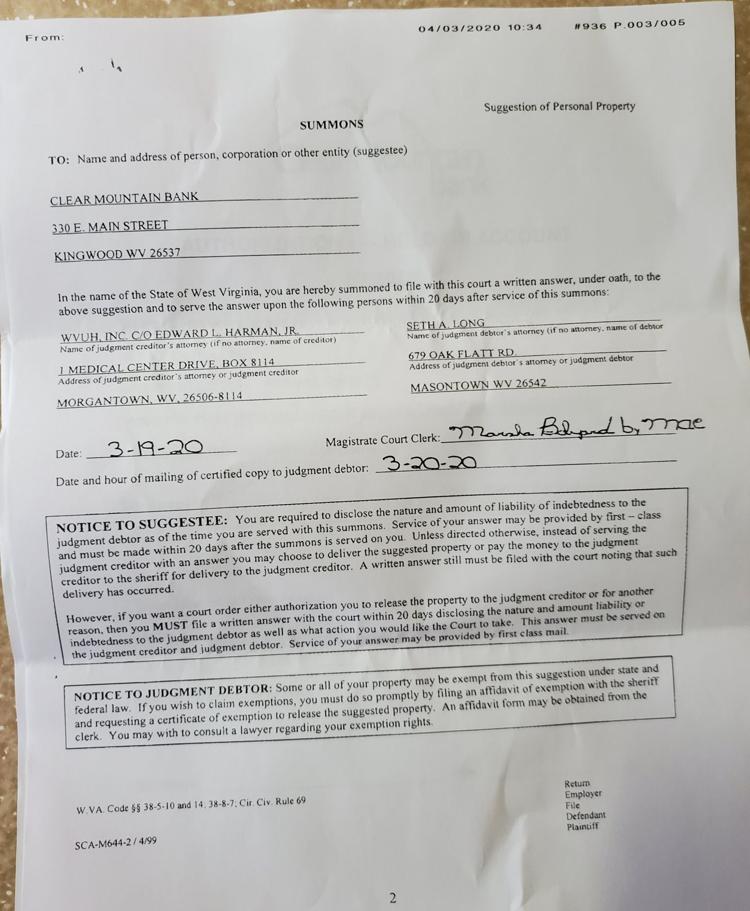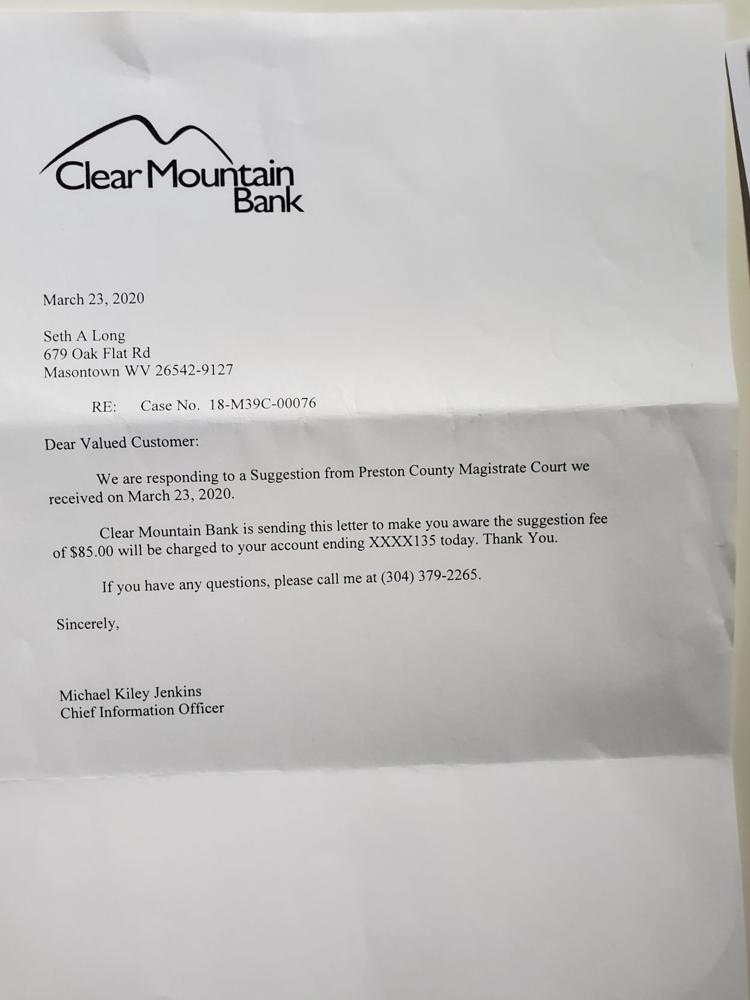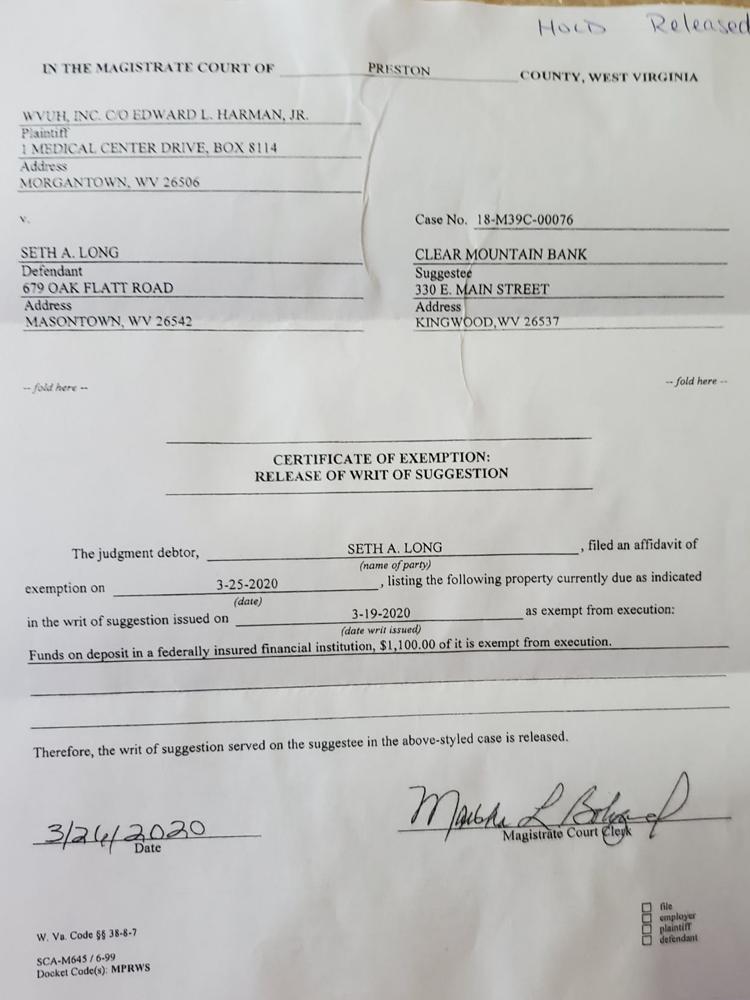 The first attempt made to seize the bank account came via a summons to CMB on March 19, 2020 after President Donald Trump had issued a state of emergency nationwide in response to COVID-19, demonstrating the severity of the pandemic.
Seth Long filed an Affidavit of Exemption six days later on March 25 as up to $1,100 of funds on deposit in a federally insured financial institution is exempt from execution of such a judgment, and the total estimation of funds in the account did not exceed that amount. The Magistrate Court of Preston County, therefore, wouldn't grant the seizure of the account.
WVU Hospitals then filed and was granted a motion to quash the exemptions based on Long failing to list his personal property on the affidavit, and requested on April 1 that the account be seized and a court hearing be granted.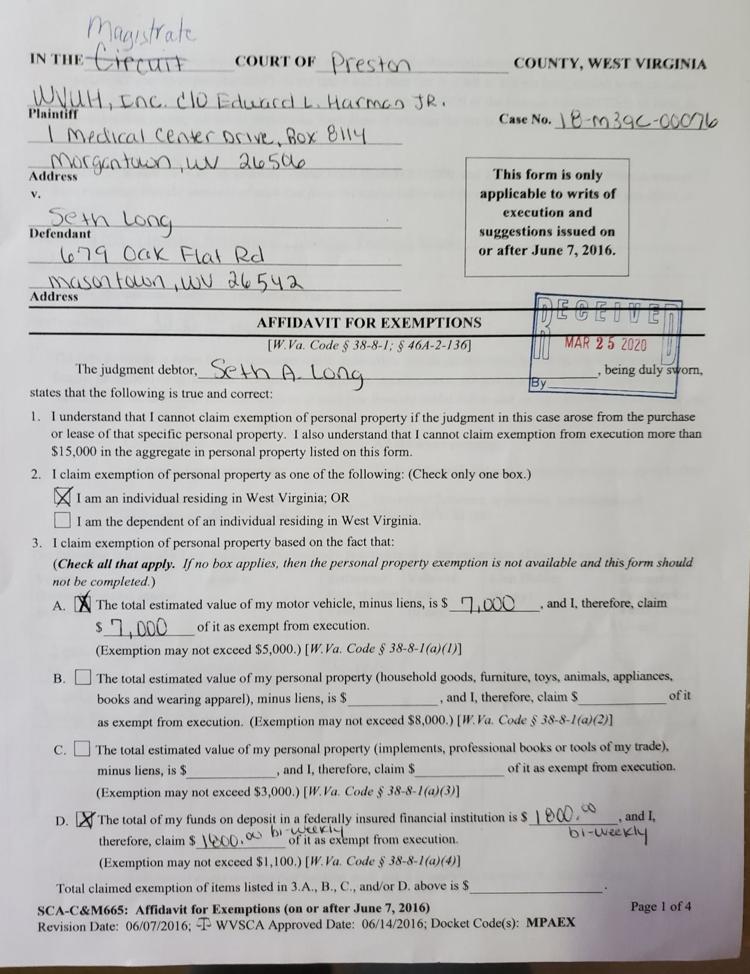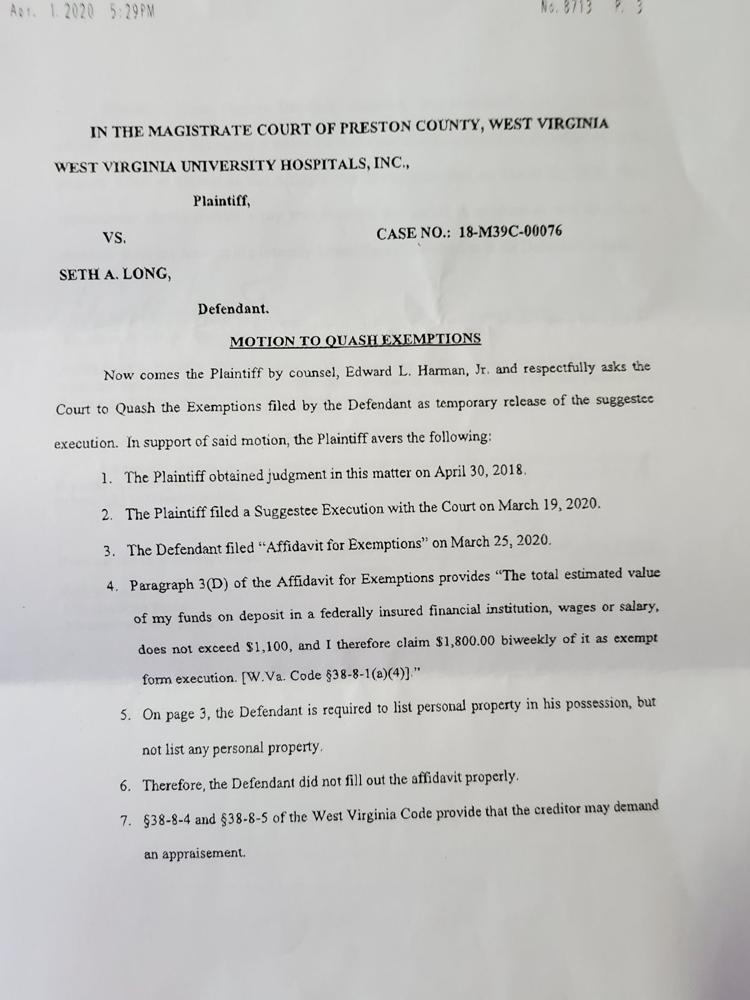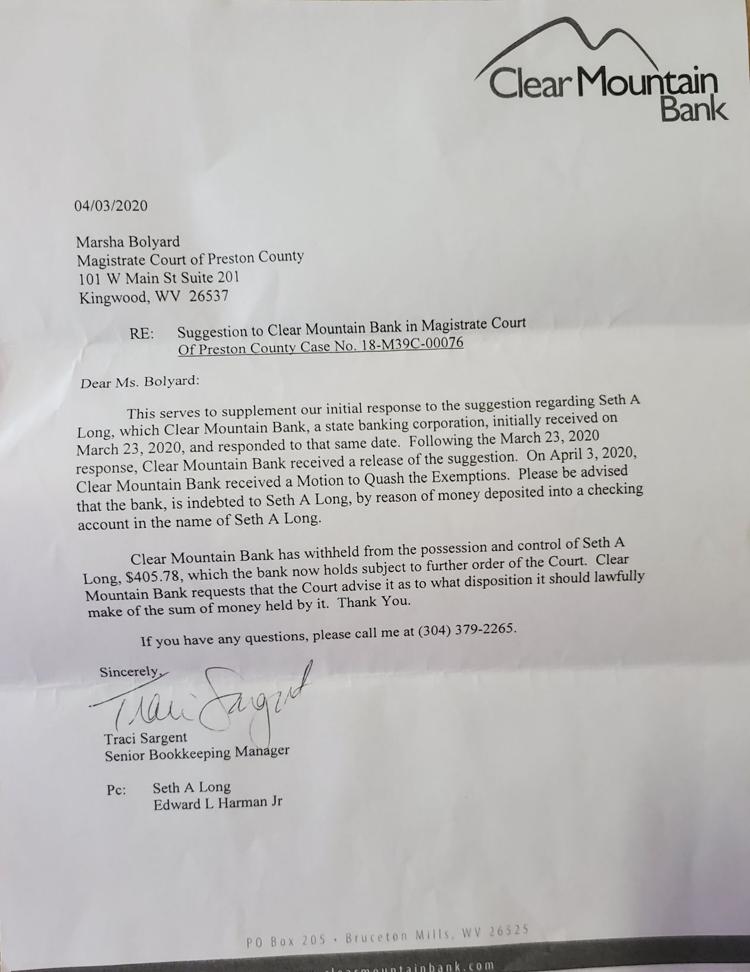 However, the State Supreme Court of West Virginia had ordered on March 23 that "all proceedings and court deadlines, except the emergency proceedings described herein, directed to take place or any act required to be done on any day falling within this period of judicial emergency, are stayed. All jury trials are stayed during this period of judicial emergency," meaning that the Long family was prevented from obtaining a court hearing. This allowed the WVU Hospitals to seize the account two years after the original judgment, during a pandemic, and without due process, according to Wagner.
This shows, Wagner said, that even though new suits aren't currently being filed, both third-party collectors and WVU Hospitals directly can still use the system to their advantage to collect debts during a time of public crisis and emergency — and WVU Medicine doesn't appear keen on changing that any time soon.
"So they're tying up a debt collection in a legal proceeding, but my clients have no recollection of being served with that lawsuit or being aware of it anyway...and even if they initiated the process, which who knows, prior to the state of emergency, they continued to go through with it and file the necessary paperwork after the state of emergency started, and continued to contest the execution of the judgment after the court closure," Wagner said.
"It's kind of a technicality…[the guidelines] wouldn't stop executing on a judgment now, and that can be through garnishing wages or seizing bank account funds. It's disappointing to me that they're taking such a short-sighted approach to this. The decision to bar new litigation isn't really any meaningful decision at all because the courts are closed. A meaningful decision would be to bar these activities [during the pandemic]. That would actually do something for people."
An Ineffective Approach?
Wagner also reviewed the full guidelines released by WVU Medicine, and went on to state that, from a legal point-of-view, the guidelines do very little to protect those in debt during this crisis. She strongly criticized WVU Medicine for what she called "a statement intended to make WVU Hospitals look like it's being compassionate when it clearly intends nothing of the sort."
"Simply put, the so-called policy allows third party debt collectors to continue calling and harassing West Virginians to pay old medical bills, allows repeated follow up calls even if the person says they are concerned about their financial situation in this crisis, provides no clear guidance on interruptions in payments plans, and does nothing to stop garnishment of wages or seizure of bank accounts," she said.
Would you consider the approach WVU Medicine is taking towards debtors during the pandemic as "soft?"
"The policy also doesn't address WVU Hospitals' substantial in house debt collection practice. WVU is allowing debt collectors to decide how to collect its debts, knowing where the incentives lie when the debt collectors get paid based on the money they squeeze out of struggling West Virginians," Wagner said.
Meanwhile, Condia indicated he would consider discussing the new information with the collections companies.
"I think it is good to get that feedback, and if there is a perception that vendors are not doing what we have asked them to do, then that is good to know, and we can certainly follow-up with them and reinforce the need to really take a softer approach," Condia said.
That's not to say there won't be communication, we recognize the difficult situation many people find themselves in [right now] and as we point to, most of these agencies are pausing calls to agencies for 120 days, and we would certainly reinforce that to vendors...if some people are still getting these calls and getting a message that is left than soft," Condia continued.
Condia said that reports that collectors were not following WVU Medicine's guidelines would be evaluated and handled on a case-by-case basis.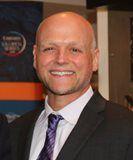 "Ultimately, the guidance is — they're out there working on our behalf so the expectation we would have is that they are very responsive to the direction that we give them," Condia said. "We would investigate if there were any issues related to any specific vendor and evaluate the path forward at that point. But ultimately our expectation is that they're following our guidance and direction we're giving them during this unprecedented time."