RIVESVILLE — Just a few miles north of Fairmont — the county seat of Marion County — lies the small town of Rivesville.
Home to just under 1,000 residents, the cozy municipality sits on the northwest bank of the Monongahela River, smack dab in the middle of the Fairmont coal fields, a coal-plush region concentrated in the county. That is where West Virginia House of Delegates democrat and minority whip Mike Caputo calls home.
The geographical location of Rivesville made it quite significant in the 20th century — nearly the only area in and around Rivesville where the coal has not been mined out is directly under the older portion of the town and under the riverbed.
When mines began operating in Rivesville in the early 1900s, the town's population exploded from 190 to 1,700 over the course of just two decades. The town was a coal mining hotbed.
Thus, Caputo, among many others raised in the town over the last century, grew up in a coal-mining family and was raised around the culture. He followed in his father's footsteps and became a coal miner for 20-plus years, and served on the Rivesville Town Council in the 1980s. In the 90s, he took the step toward state politics, where he has remained since.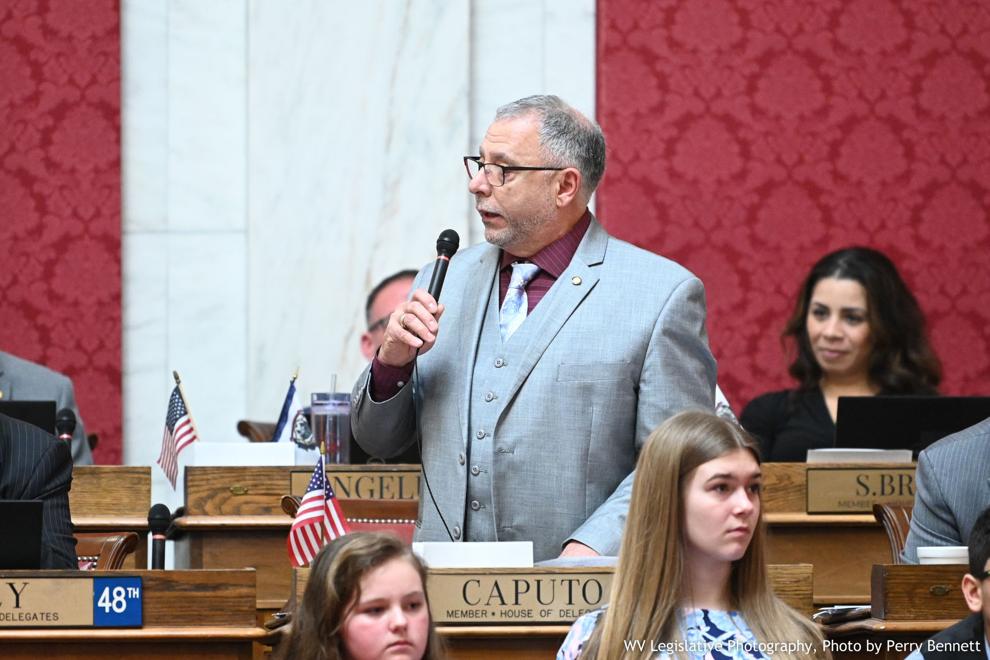 When the global COVID-19 pandemic became recognized in the United States, and subsequently West Virginia, Gov. Jim Justice was quicker than many states with numerous confirmed cases of the virus to shut down non-essential businesses.
One industry that remained open was coal mining. However, many experts in mining and public health are beginning to raise alarms that keeping mines open during the pandemic could be extremely dangerous for both those who work in mines, as well as the general public.
And some of the same folks are wondering why Justice was so quick to call mining an essential business and is so far hesitant to take steps towards ensuring mines run safely during a public health crisis.
"I gotta tell you, being totally honest with you, I'm very concerned about the risk that coal miners face with the pandemic right now. MSHA [Mine Safety and Health Administration], that's the federal administration mandated to make the coal companies provide us with a safe place to work … those inspectors are mandated to make sure the operators provide us with a safe place to work," Caputo said.
"It's on them to do that. So I don't know what they're doing, if anything, at this point in time, and I am very concerned. I know that coal is essential … but at the same time, if you've never been in a coal mine, there are a lot of hazards — it's very hard to social distance in a bath house."
"You can't put 40 people on an elevator, you can't put eight to 15 people on a mantrip, and ride 30-40 minutes in one direction, then do it again coming out … and have as many as 200 people standing shoulder-to-shoulder. I don't know if there is another occupation other than the medical field that's more infectious than the coal mines," said Carlo Tarley, UMWA International Secretary Treasurer Emeritus.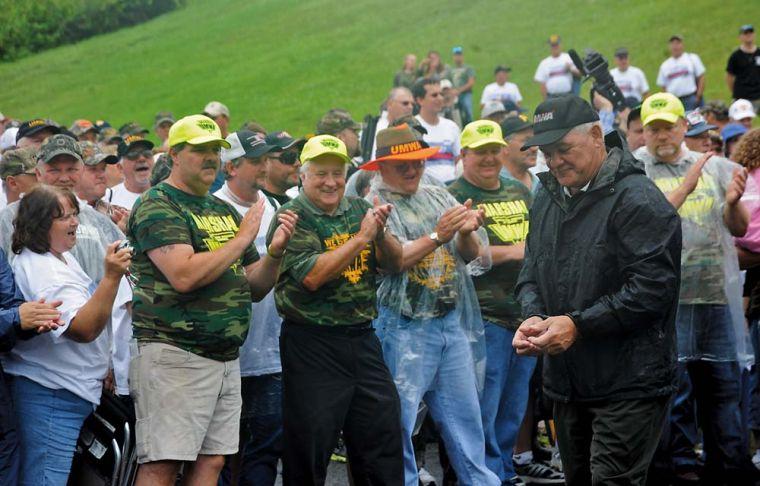 Tarley lives in Monongah where, ironically, The Harrison County Coal Company is centered with its four operations in the region, according to parent company Murray Energy's website. Murray also owns another company with operations centered in Marion County, and a third with operations in western Monongalia County.
Monongah is also famous for a 1908 mining disaster which killed well over 300 people. It has been christened by some as the worst mining disaster in U.S. history and was one of the contributing events leading to the creation of the United States Bureau of Mines.
Tarley and others in the mining industry are failing to find ways they believe will keep the miners safe during this pandemic. And these are miners that could potentially return to their communities and cause community spread.
"This is different from explosions — those are generally caused by not following the rules. On this, the Governor gets on the TV and says you're going back to work, and we've got the federal Mine Health and Safety board nowhere to be found, the department of mines, nowhere to be found … and how do you send those guys into the mines," Tarley said.
"Now I've talked to the President of the Union and he agrees with me — there's no safe way to get those miners in and out. You can keep enough to maintain the mines until sometime when it's safe to go down there, but Lord knows how many people one guy can infect … it's just impossible to do."
It's the nature of coal mining which causes it to be so dangerous, as there are continuous clusters of people working together, sharing machines and tools, breathing air that while designed to be well ventilated will often flow in one direction, all in an environment that historically has not proven conducive to sanitation.
"You go into a bathhouse and dress beside your coworkers, you take your street clothes off and put your work clothes on. and then you go out to an elevator, and it sometimes holds 25-30 people." Caputo said.
"Then you ride down 700-800 feet, then you get in what's called a mantrip to ride back to wherever a working section is … they usually hold 12-16 people, and it's just like a little bus on railroad tracks, and you're seated very close together. You'll have four people seated on one bench and four people seated on the other and they'll be facing each other, knee-to-knee."
"You ride back in the mine together, you work together, and the air in a coal mine flows in one direction. The air you breathe is going to blow over top the two pieces in front of you … it kind of just tunnels. People have to work very close together sometimes. You don't have any sinks or clean restroom facilities, we usually have gallons of water to rinse off with. And when you're done working you ride back … and you take your work clothes off and we all shower together."
Introducing workers to such an environment long-term has also proven to, even with multiple advances in mining safety over the years, cause damage to the lungs and respiratory system, which makes miners much more likely to catch severe cases of the disease and spread it around.
"The big thing to worry about is that because of the dust exposure could develop black lung, which puts them at an increased risk for severity of the disease. They're already lung compromised. It's not going to be good, because this is a respiratory virus," said Michael McCawley, clinical associate professor at the WVU School of Public Health.
"If you're working close with one another, handling the same tools, handling the same equipment, you have the risk of something spreading to a surface, then to another person's hands and into their lungs."
MSHA has announced via its website it is abiding by President Trump's coronavirus guidelines for U.S. citizens, but will continue to perform essential functions. They also said they support operators' efforts to minimize the spread of COVID-19, including screenings or questionnaires, and will encourage inspectors to participate on a voluntary basis.
MSHA is also following all protocols for identifying MSHA inspectors or other employees exhibiting symptoms or who have had potential exposure, asking them to quarantine at home, and cleaning the relevant offices following CDC guidelines. However, no additional guidelines or official mandates have been set forth at the federal level.
"I don't know if they have made provisions to practice some type of social distancing, but it has to be very difficult if not impossible. I want this noted, I'm very, very worried and concerned about coal miners. That's what I did for a living, and once a miner, always a miner," Caputo said.
"I know our guys want to work, and I want them to work … but I don't want them to do it if it risks their health and their family's health. Bottom line, I hope that MSHA is doing the right thing and I hope the companies are doing the right thing. I hope they aren't putting profits ahead of people," he said.
Do you think mines should continue to operate per usual during the pandemic, reduce operations, or close until a solution can be figured out?
Caputo and Tarley have both seen numerous coal strikes and coal shortages over their long careers in the industry, and understand well just what capacity the mines need to operate at currently to keep energy needs supplied, as well as how long we could go with a number of operations shut down completely for awhile — Tarley said that one to two months isn't unreasonable to begin with.
So there are questions and concerns as to why Justice so quickly decided mines were considered so essential, and why he hasn't stepped in to make any executive decisions to ensure miners don't become super spreaders and put public health at danger.
There is no doubt Justice understands how mining works. As of 2014, he owned 70 active mines in five states, and though he resigned from executive positions at his companies when he took office, he placed his son, Jay Justice, in charge of the assets.
"I think he made that decision quickly without thinking about putting safeguards in place to make sure that miners will be protected. He made that decision early on and called it an essential business from the onslaught — Mr. Justice has owned coal mines and he knows what the conditions are miners have to work in," Caputo said.
"I'm not sure why he made the decision as quickly as he did, and I hope he would have at least consulted with MSHA and the state inspectors… if he did that I'm not aware of that because he made the decision very quickly. In Pennsylvania they shut the mines down, and I know he criticized their governor for doing that. The most precious resource that ever comes out a coal mine is the coal miner...I don't want to presume [there is a conflict of interest], but that can be perceived," Caputo continued.
While mines still operate, health experts like McCawley urge miners and their families and friends to be extremely cautious with sanitizing, especially while working and when returning from the mines to the public, and offered some advice from his point of view.
"There should be a lot of concern, and the idea isn't just that it could spread to miners but that they could conceivably spread it to their families, and that's a risk everyone should be aware of and take precaution toward," McCawley said.
"Presumably, mines are well ventilated in most places, but that may not be true of the dinner hole. My advice would be to stay out of the dinner hole, because the ventilation in the dinner hole is usually nonexistent … I think changing out at the mine particularly would be helpful, and if you can cut back the mining to the minimum number of people required. It's a problem waiting to happen potentially and how much of a problem we just don't have that much experience with."