RACHEL – Some students of Marion County Technical Center had a chilly night camping outside the school Saturday night.
Setareh Gump is president of the Marion County Technical Center's Distributive Education Clubs of America (DECA) chapter and said the effort is part of the campaign to raise awareness of the struggle of homeless individuals.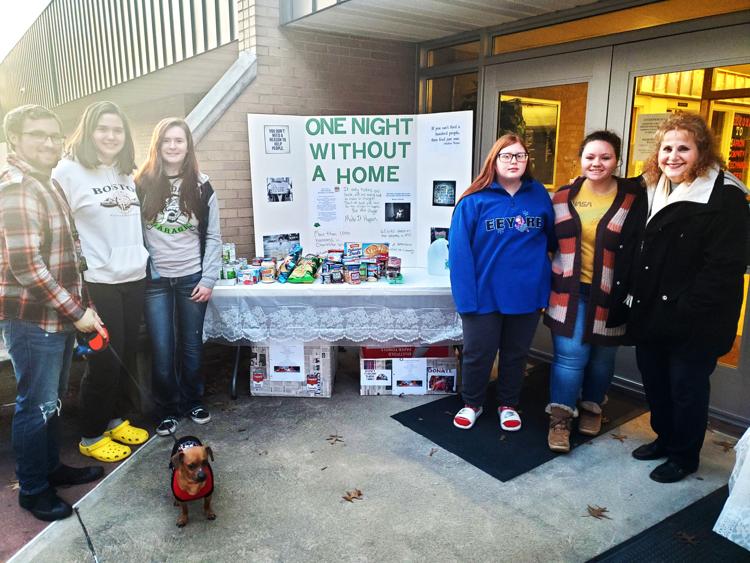 "We're trying to raise awareness for homelessness," Gump said. "We stay out all night and try to get people to donate food, blankets and clothes."
The program is called One Night Without a Home, and it is an initiative by the school's DECA chapter to not only raise awareness of the homeless but collect canned goods and warm clothing items to give to organizations that help in their struggle.
To do this, the students replicated the experience and camped out outside for hours into the night. Having held the overnight event since 2012, One Night Without a Home is meant to bring the exposure of the homeless struggle to the forefront.
"It's around more than you know," said Colton Daft, an alumnus of the Technical Center and its DECA chapter. "You don't see it around you until you've seen it somewhere else."
Although he graduated this past spring, Daft returned to the Technical Center for the event, because he was the one who helped carry it on in his time at the school. He talked about a trip the chapter members took to New York City, which opened his eyes to the lives those experiencing homelessness live.
"My sophomore year, we went to New York and we really saw the homeless situation," Daft said. "That's what honestly inspired me, just seeing how big of a problem it was.
"We were in New York in December two weeks before Christmas, and we were bundled up and we were freezing."
Although several members of the chapter as of now are freshmen or new to the club, their attitude while approaching One Night Without a Home was one of determination, and they brought warm clothes to endure the chilly night.
"It's going to get cold," said Makayla Reckart, vice president of the DECA chapter. "But we've brought a bunch of stuff to stay warm."
The students also bought some soup and crackers, while others brought firewood also to keep them warm. In past years, they brought cardboard boxes to act as shelters for the night, but that aspect became too demanding.
Kathy Lupo, staff adviser of the DECA chapter, said the Technical Center staff and students look for community outreach efforts to partake in, and the issue of homelessness has been constant for the past several years.
"I think it's 16 percent in Marion County, the homeless rate right now," Lupo said. "We're trying to find different projects they can get into the communities."
Lupo said that the donations collected by the DECA members will be donated to the Union Mission, the Fairview food pantry and More Grace Outreach in Taylor County. The group started collecting clothing and blankets this year because homeless individuals don't normally hold onto them.
"They said that there is a need because they don't have washers and dryers," she said. "They swap clothes out totally, so there is that need since it is easy to dispose of those clothes."
Even in their daily lives, the students notice this struggle. Gump said that she even tries to help one individual whom she said resides in Mannington.
"There is someone in Mannington, he's a homeless veteran," Gump said. "I try to give him clothes and food when I can."
Seeing this issue first hand, the members of DECA agreed that somebody has to do something about it, and they decided it would be them. Reckart said that the group was determined to stay out for the whole night, and added that she hoped the message comes across to the people of the community.
"You can see them walking around, there is a lot more that you see in Fairmont," Reckart said. "We want it to be known that it is happening and that we can do something about it."