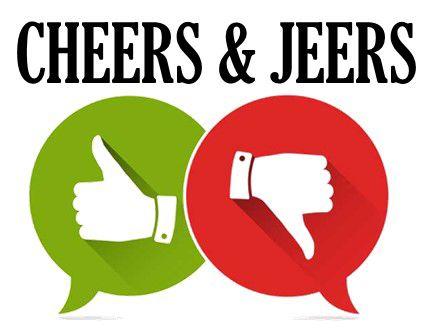 To submit a cheer or a jeer, send an email to timeswv@timeswv.com with the subject "Cheers and Jeers."
Cheers to the United Way for setting up a 2-1-1 hotline for Marion County residents. The hotline, which is a statewide collaboration and available all 24 hours of the day for all 365 days of the year, will give aid information ranging from food pantries to health care clinics and affordable housing to those who need it and do not have access to the internet.
We think this is a great way to provide valuable information to those in need.
Cheers to Marion County Board of Education, who — at its last meeting — discussed various solutions to help protect children caught in the opioid epidemic. The Board has been working with nonprofits and area leaders to figure out possible solutions to minimize the effects of drug addiction on the children of Marion County.
We think this is great because the opioid epidemic is not just having an immediate effect on the lives of those addicted, the ripple is affecting the lives of those around them. We applaud the initiative the school board is taking to protect the children from anything that could prevent them from getting an education.
Cheers to the City of Fairmont for hiring Valerie Means as the new city manager and raising awareness of child abuse.
Means, who will also be Fairmont's first female city manager, and the City verbally agreed to the terms of her employment on Friday, which includes salary, severance pay, benefits and performance evaluations. We think the City made a great decision in choosing Means, and we support the civility and professionalism with which all individuals have been proceeding since then.
On Friday, Mayor Brad Merrifield named the month of April "Child Abuse Prevention Month" in Fairmont, and has urged citizens to unify in an effort to reduce child abuse and neglect. The proclamation was presented by representatives of the Marion County Child Advocacy Center.
We support this and congratulations to Mayor Merrifield on his continued efforts to protect the children of Marion County from harm.
Cheers to the Marion County Parks and Recreation Center for allocating money to upgrade recreational complexes through its Community Grant Program. The citizens of the community appreciate the upgrades.
Jeers to Gov. Jim Justice, who vetoed House Bill 2674 — a bill that would have created a student loan repayment program for mental health workers who want to practice in the Mountain State. The bill, which is now being considered for the planned special session, would have gone into effect on Jan. 1, 2020, and those eligible would have received $10,000 in loan repayment for each year of practice in an underserved area of West Virginia for up to three years.
Mental health is important, and this state has consistently had a shortage of mental health workers. We believe this bill would have gone a long way in starting to correct that issue.