To submit a cheer or a jeer, send an email to timeswv@timeswv.com with the subject "Cheers and Jeers."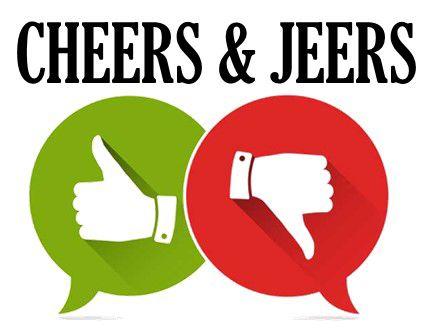 Cheers to the Union Mission, for continuing to actively support those who have become homeless in our community. These kinds of services are important and vital to our city. They recently received a gift to help remodel the dining area and purchase a few much-needed pieces of food serving equipment.
We're very happy to see their services being supported and hope that support continues.
Cheers to Marion County Sheriff Jimmy Riffle and everyone else involved in implementing a new computer-aided dispatch system called Zuercher. According to Riffle, the system allows law enforcement to access information more quickly, including information from any other agency in surrounding areas that are also using the system.
We're glad to see our local law enforcement becoming more modernized and hope that it assists in helping keep our community safe.
Cheers to Karen Beckman and the eighth-grade Destination Imagination team at Barrackville Middle School. The team brought home first place for its project, which involved researching and learning about historical figures from around the world.
We're proud to have gifted students in our county.
Cheers to the leaders of Marion County for cooperating on a project to "Make Marion County Count". The initiative — which is creating a promotional video about Marion to help draw people into the county — involves the cooperation of the leaders of each community and the county leaders to help make Marion County as a whole a better place to live and has begun cleaning up individual areas with help from volunteers.
We are glad to see the uniting of all of the communities within the county and we are especially happy to see the initiative the county is taking to better itself to move Marion forward.
Cheers to the Marion County Commission for discussing road concerns — specifically, secondary roads and potholes — at a two-hour April 18 meeting with officials from the West Virginia Department of Transportation at the District 4 Headquarters in Bridgeport. MCC President Randy Elliott said he thought the meeting was a positive step and added J. Darby Clayton, district engineer-manager for the state Department of Transportation Division of Highways District 4, will attend the next county commission meeting.
We are glad the MCC is actively pushing to better our roads, as transportation safety is a high priority.
Cheers to the Marion County Public Library, our local schools and churches, and everyone else in the community that has contributed to the many Easter events and celebrations throughout our county. We wish everyone a safe and happy holiday.