To submit a cheer or a jeer, send an email to our news editor at aweiford@timeswv.com with the subject "Cheers and jeers."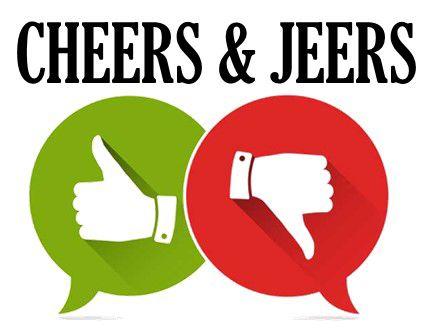 Cheers to Carl and Mollie Wagner, who donated $5,000 to the Marion County Rescue Squad to help with the purchase of a distracted driver simulator. The simulator will be added to the squad's mock DUI simulator and will help illustrate the dangers of driving while distracted. We hope children who use the simulation take the lesson to heart as they become licensed drivers.
Cheers to St. Peter the Fisherman Church for serving their community a fish dinner every Friday night during Lent. Pat Stowe, a church member, told the Times West Virginian the church serves over 80 pounds of fish each week to hundreds of people. We think these dinners are a great way to bring community members together.
Cheers to Fairmont Mayor Brad Merrifield for proclaiming March to be American Red Cross Month. The Red Cross does extremely important work and has helped many members of our community. We only wish that the proclamation had come earlier in the month, but we hope residents carry the spirit of the proclamation into April and continue to support the organization.
Cheers to Kasha Patel, a Fairmont native and Fairmont Senior graduate, who recently headlined the Fifth Annual West Virginia Comedy Festival at the Buckhannon Opera House. Patel holds an undergraduate degree in chemistry and a master's degree in science journalism and seeks to share science with her audience in a funny and accessible way. Patel also auditioned for the Just for Laughs Comedy Festival in Montreal, Canada. We wish her the best of luck with her career and encourage our readers to follow her journey and support one of our own.
Cheers to Lloyd White, administrator of the Marion County Health Department, and the rest of the staff involved with the department's harm reduction clinic. White reported some success at the Marion County Commission meeting last Wednesday and we're certainly glad to learn of any progress being made in the constant struggle with drug use. 
Jeers to former magistrate judge Hank Middlemas, who resigned earlier this year. The Judicial Investigation Commission of West Virginia issued a public admonishment against Middlemas following an ethics complaint and subsequent investigation. The commission found that Middlemas regularly failed to perform certain duties of his office, and instead often prioritized playing golf. This sort of behavior is certainly unbecoming of an official of the court, and we're glad that someone who views the office with such little regard is no longer serving.