To submit a cheer or a jeer, send an email to our news editor at aweiford@timeswv.com with the subject "Cheers and jeers."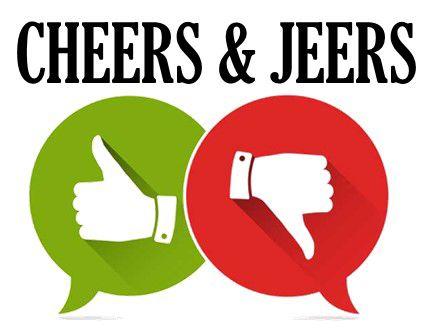 Cheers to all the students in town who are competing in the 53rd annual SkillsUSA West Virginia State Leadership and Skills Conference at Fairmont State University. The conference had over 700 registered competitors from all over the state, competing in 65 competitions. We're happy to welcome these visitors to our community. We're also delighted to see this conference, which showcases "some of the best career and technical students in the entire country," according to Pierpoint Community and Technical College President Johnny M. Moore. Many an editorial meeting has been spent discussing the shortage of students with vocational skills across the country, and having an event to celebrate those students in our hometown is a genuine treat.
Cheers to Anysa Jordan, Courtney Wilfong, Taylor Buonamici, Zyon Dobbs and Jalen Bridges for receiving All-State recognition. Bridges also won the Evans Award as boys' basketball state player of the year. We're proud of our local athletes and wish them continued success, both on and off the court.
Cheers to Cody Clayton Eagle, a musician from Morgantown who has graced the stage at our own Palatine Park numerous times. Eagle recently competed on American Idol, and while the competition is far from over, he has made it through Charleston and New York and is currently waiting for the next round of auditions in Hollywood. In New York, Eagle received a 'yes' vote from judges Katy Perry, Luke Bryan and Lionel Richie for his original song 'I Will Sing.' We're excited to see a musician from North Central West Virginia get so far in this competition, and wish him the best of luck in his next audition and in his coming musical career.
Cheers to the City of Fairmont's Arts & Humanities Commission, which is preparing its annual celebration to honor ten area residents who show sustained achievement in cultural scholarship and/or the creative and performing arts. The celebration will be on April 7.
Jeers to the federal government, which, amid the government shutdown, allowed a tax on coal to fall to about half of its normal rate. The funds help pay for the Black Lung Disability Trust Fund, which is meant to help support miners who have been afflicted with the disease due to work conditions in the mines. At the current rate, budget officials estimate there won't be enough money to fully cover the fund's benefit payments by the middle of 2020. Despite the current administration's insistence that they support the coal industry and its miners, there has been no mention of restoring the 2018 tax rate to ensure disabled miners in need of these benefits are covered.
Jeers to the suspects in Morgantown who drove around town to distribute literature supporting the Ku Klux Klan after the attack on a mosque in Christchurch, New Zealand. The world already contains far too much hatred, and it is truly disgusting to know there are some in our state who believe it's acceptable to support such an organization, especially only days after a white supremacist murdered 50 people for no other reason than being different than him.