FAIRMONT — Five games into the 2021 season, and the reigning state champion Fairmont Senior Polar Bears have taken their lumps.
Coming into the year, the Polar Bears faced a daunting schedule — three battles against Top 10 Class-AAA squads (as of Oct. 6) in Bridgeport, University and Spring Valley, a Top 10 Class-AA school in Robert C. Byrd, and seven road games — though their matchup against East Fairmont, slated as an away game, will be played at East-West Stadium.
With coach Nick Bartic's team trying to replace key departures with a new generation of Polar Bears, the season to this point could be called a trial by fire for the Bears, whom Bartic has characterized as "inexperienced" on more than one occasion.
Fairmont Senior sits at 2-3, and did not play last week in their scheduled game against Wheeling Park, according to the FSHS Football Boosters, "due to confirmed positive cases associated with the Fairmont Senior High School football team." The Polar Bears' game against Spring Valley, originally slated for this Friday, has been postponed as well, also according to the Boosters.
With the Polar Bears temporarily sidelined, there is a good opportunity to break down their season to this point.
Fairmont Senior has put two players under center in 2021, senior Dom Stingo and freshman Brody Whitehair. Stingo started the first three games before moving to receiver and defensive back, where he'd played his first three seasons, in the last two games in favor of Whitehair.
The freshman quarterback had a explosive first start in a loss to Bridgeport, completing eight of nine passes for 264 yards and three touchdowns. Whitehair followed that performance by throwing for 110 yards, a touchdown and two interceptions against University's talented defensive secondary.
On the ground, Fairmont Senior has been led by Germaine Lewis, who has rushed for 363 yards and four touchdowns to this point. Lewis has been a factor in the passing game as well, having caught five passes for 157 yards and a touchdown through five weeks. Sophomore Dylan Ours has been the next man to watch after Lewis, recording 195 rushing yards while averaging 12.2 yards a carry.
Kayson Nealy has established himself as the No. 1 receiver after an injury-shortened 2020 season. Nealy's 280 receiving yards, 10 receptions, and four touchdowns are all tops on the Polar Bears. Evan Dennison, Jayden Cheriza, and Lewis have also recorded touchdowns through the air.
On defense, linebacker Michael Kruzel has been the team's top tackler with 39 combined. Kruzel has been a jack-of-all-trades in the middle of the Polar Bear defense, also recording a tackle for loss, a pass breakup, a forced fumble, and a fumble recovery.
Eric Smith paces Fairmont Senior in sacks with four, followed by Germaine Lewis and Koby Toothman, who both have two.
Kayson Nealy and Evan Dennison, both defensive backs, have each recorded one of Fairmont Senior's two interceptions.
With Fairmont Senior's Oct. 8 contest postponed, the Polar Bears will next be in action Oct. 15 against Robert C. Byrd at home — their first game in East-West Stadium since Sept. 10 vs. North Marion.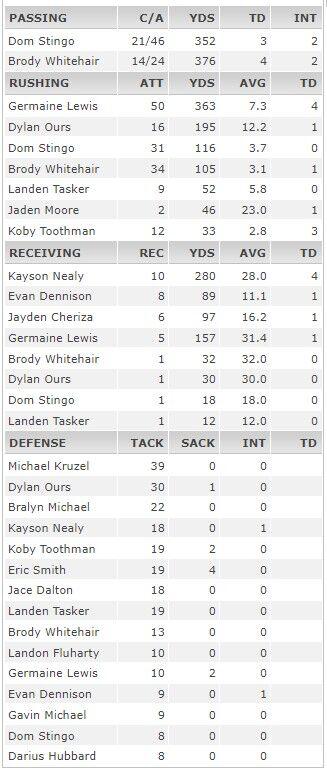 Source: Jeff Carpenter